ReINVENT/ReCREATE
ReCREATE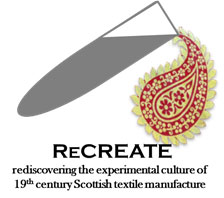 ReCREATE is a multidisciplinary research network to rediscover and reconnect the tools, materials, laboratory and workshop environments, manufacturing skills and experimental practice that Scotland used to make colourful decorative textiles in the Industrial Revolution.
Building on successes from the interdisciplinary knowledge exchange network ReINVENT, ReCREATE develops and strengthens links between academic and heritage sector researchers in the sciences, arts, and humanities through four innovative networking meetings where the collaborators examine and discuss historical materials, tools & equipment, textiles, and documents now in museums, archives and trusts.
Knowledge exchange between the collaborators and invited specialists from the UK and Europe will inform and inspire reconstructive research for making decorative textiles, and contextualise the international significance of Scotland's experimental culture before and during the Industrial Revolution. The network partners will ultimately share their expanded understanding through a public conference, and also scope collaborative research partnerships between the academic and heritage sectors to rediscover Scotland's forgotten story of textile manufacturing innovation.
Find out more on the project website.
The plans for the ReCREATE public event are in hand.
Info about the different activities will follow soon.
ReINVENT
ReINVENT: Reconnecting and Recreating 19th Century Scottish Textile Manufacture
The
ReINVENT
project explored well-known and forgotten nineteenth century Scottish manufacturing practices by reconnecting material culture evidence from historical artefacts with science and engineering evidence from historical technology.
Using Scottish textiles of the Industrial Revolution as the test case theme for three cross-disciplinary workshops, novel knowledge exchange between conservators, historians, scientists and engineers will reconnect material and technical knowledge gained from interpreting and preserving historical textile and technology collections, and from recreations of historical industrial practices.
Find out about the events held by ReINVENT in 2013 here.